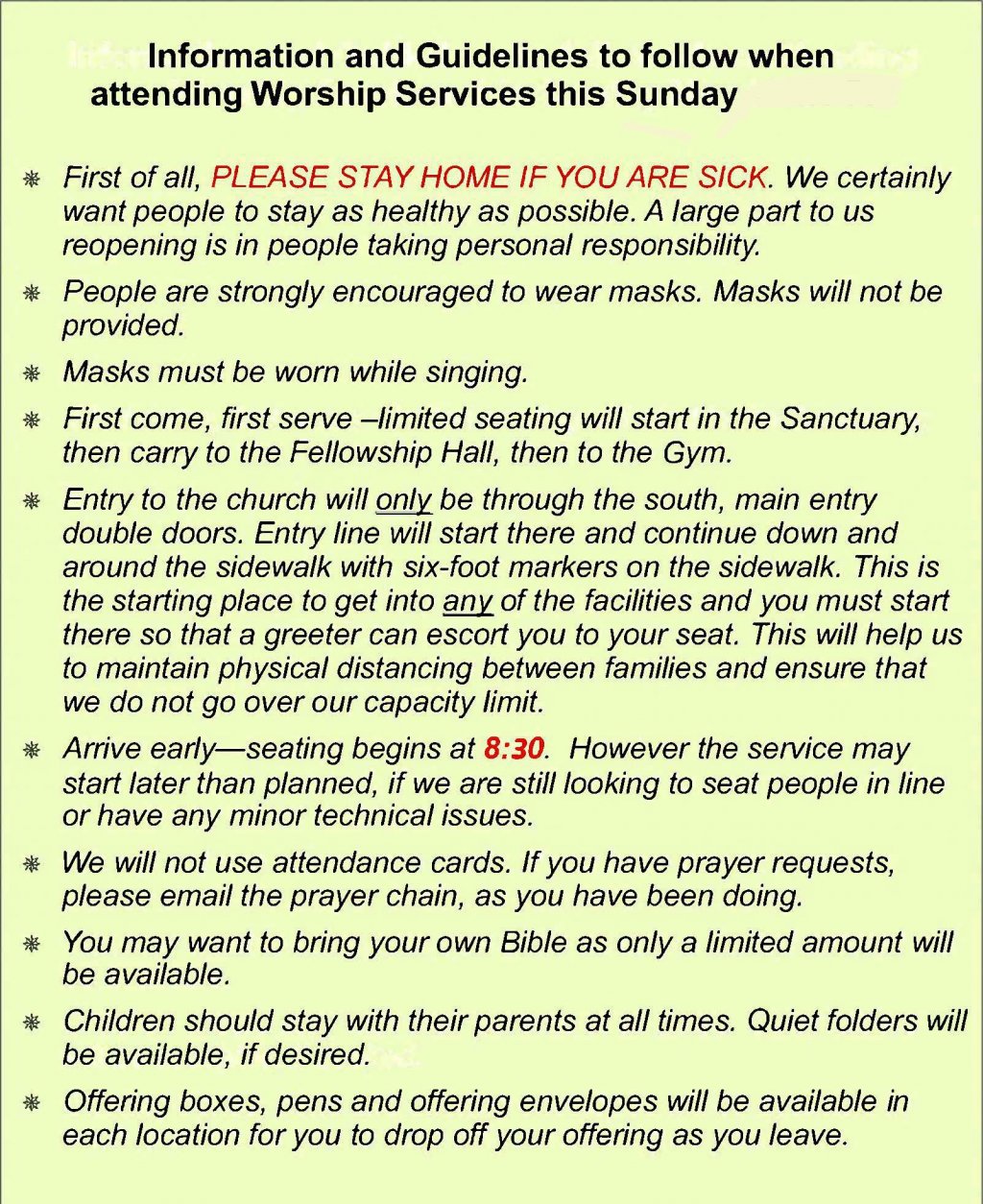 A Message To The Church Family From Sarah Comstock:


I hope you are all as excited as I am to get back to church and be able to worship the Lord together as a family of believers! I have been trying to anticipate and plan for our upcoming reopening and what that would look like for the children of our congregation. I know that they are excited and are wanting to be able to see, talk with, and play with their church friends. I also want to make sure we make every effort to keep everyone safe and healthy. With all the constant changing of do's and don'ts, protocols, and social distancing requirements, I have decided, with the approval of the Elders and Pastor Mark, that we will not have Solid Rock Children's Church or Nursery during this first phase of reopening.



During this time, children will need to stay with their family upon their arrival from vehicles, throughout the entire worship service, and then back to their vehicles upon leaving. We know children can get loud and have a hard time sitting still. We should not expect them to be quiet and still all the time. They might have toys they are playing with and that's ok. We don't want to keep families of young children from coming to church. As a church family, this will require us to show grace and patience to families and their children. I personally believe that each of the children who are a part of our congregation are perfectly capable of handling this new situation wonderfully. Quiet folders containing new and fun children's sermon notes will be provided for each child. I would encourage each child to bring their own Bibles, special writing utensils, and a fun writing/drawing tablet that might help them get excited about what they will be learning about God through Pastor Mark's sermons.



As we "do church" a bit differently for the time being, I feel that God is going to bless us by drawing our families back together again. Doing church together as a family will give us the ability to have discussions about what is being learned on Sunday mornings throughout our week. I look forward to seeing each of you on Sunday if you are able to come.


God Bless, Sarah Comstock