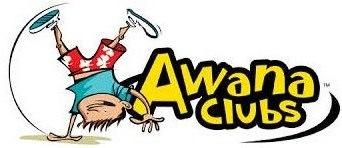 The first night of Awana was Wednesday, September 6th. We are looking for leaders for the Sparks group (K-2nd grade) and people willing to come and talk with new families who come to the Awana Outreach Dinners.
We are still looking for volunteers to help bring snacks for our preschool-age AWANA Cubbies each week. Please add your name to the sign-up sheet on the table in the Lobby, if you can help. And we are still looking for help in lots of other areas, so please see Sarah Comstock if you are interested or have any questions. AWANA is Wednesday nights at 6:30 pm (Outreach Dinner at 5:45 pm).

Our 1st Store Night will be September 27th.
Donations are welcome and appreciated!


You can drop off new or gently used items at the church office 9am-noon,
Mon-Fri or place them in the southwest corner of the Fellowship Hall with "Awana" clearly marked on them.


What is AWANA?
AWANA stands for "Approved workmen are not ashamed" (2 Timothy 2:15). AWANA was founded in 1950 as an international, nondenominational Bible-centered children's and youth ministry. The program is committed to evangelism and the discipleship of children and youth. Discipling our children is perhaps one of the most important things we can do for this generation as they are the future of the church. Consider the statistics that only nine percent of Christian youth and one third of born again adults believe in absolute truth. George Barna warns, "The church must focus on children andchildren's ministry. We have virtually lost a generation, we cannot afford to lose another one." AWANA is dedicated to getting as much of God's word as deep into the hearts of as many children as possible so that they can be the nextgeneration to proclaim God's truths.


What do you do at AWANA?
Each night at Awana the kids will participate in a large group teaching time where they will learn about a Bible Biography or learn a Bible concept, sing worship songs, play energetic games and meet with leaders during small group time. There are different themes for each night such as crazy hair night or glow in the dark night as well as monthly missions projects and service opportunities.


A key feature of AWANA is scripture memorization. Each child receives a handbook once they complete their entrance booklet. Sparks and T&T students are encouraged to work their way through their handbooks at their own pace. In the handbooks are verses to memorize. We want children to commit scripture to memory so it is, as we read in Psalm 119:11, hidden in their hearts.


Call Sarah Comstock at 719-275-1074 if you have any questions.