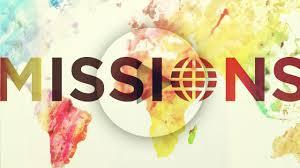 As of this date, Kendra Brady is still in the United States. Please pray for her as she continues to raise support in order to return to Tanzania. We will be able to rejoice with her when this happens.

This summer we look forward to a visit from James and Cheryl Cloyd (Alongside Ministries) sharing about their ministry in France.

$500 was sent to Voice of the Martyrs to help supply Bibles to the many Christians in countries where Bibles are prohibited.

Sunday, July 30th you will have another opportunity to give to the Congo Milk Fund during the fellowship hour, after church.


We will continue to have our missionaries share with us in our services as their schedules give them an opportunity.
If you would like to have a list of the missionaries we support here at CFF, please contact Terri Humphreys at 719-275-5118.

--- CFF Missions Committee