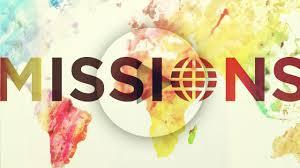 Congo Milk Fund Sunday was July 29th. There were many yummy things to eat, coffee and great conver-sation! Please remember that this is held four times a year to raise money for nutrition programs for the young children and babies in Mulungushi, Congo. Thank you to everyone that brought wonderful goodies to share!



It was so wonderful to have Alicia and Marcelo Aguilera and their baby, Gianna, from Argentina visit us in June. Alicia's parents were also able to come with them. It was a short, but great visit as they gave the message on Sunday morning and joined us for fellowship time. The Missions Committee gave them some money to help with travel expenses. They were very thankful for the money and especially for the warm welcome they received.



Don and Janet Guizzetti in Burkina Faso, Africa, wrote a thank you for the extra money we sent them for baby formula. They wrote, "We wish that you could partake of the joy we feel when we hold happy babies who so recently had nearly starved to death!"


The Missions Committee meets the second Tuesday of the month at 5:30 in the library. Please feel free to join us anytime. We will not meet in August, but will resume monthly meetings in September.

--- CFF Missions Committe