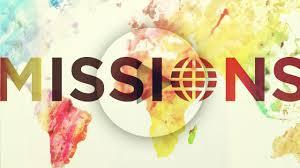 across the street &· around the world
Missions has had a very busy summer. We've been visited by the Guizzettis from Burkina Faso, Africa, and the McMillan family from northern Russia. Kendra Brady, home from Tanzania, Africa will also be visiting soon.


We have continued to collect food for Loaves and Fishes and are in the process of helping the Canon City Pregnancy Center stock their shelves with formula, diapers and wipes. (Please continue through the months of August and September to bring in these items for the Pregnancy Center.) As always, thank you so much for your generosity! This church family is amazing!!


This September, we are hoping to have the director from Climbing for Christ visit our church with a presentation on what he is doing in the mountains of Africa.
There is always something going on. If you would like to be a part of the Missions Committee, you can call the church office or just show up.



Starting again on September 1oth, the Missions Committee meets the second Tuesday of the month at 5:30 in the library. Please feel free to join us anytime.

--- CFF Missions Committe