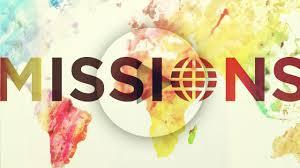 --- CFF Missions Committe


Missions Meeting: Monday, May 1st at 6:00 pm in the library. Anyone interested is welcome to attend.

Missionary Spotlight for May

Meet Mark & Nancy Waite

Many of you know Mark and Nancy since Mark served as our pastor a few years ago, but did you know that we support his mission, Regions in Need? Mark travels all over the world working with native pastors helping them grow in their knowledge of the gospel and love for Christ. Most of Mark's work happens in Cameroon, Africa. In Mark's recent newsletter, he spoke about his experiences spending Easter week in Cameroon. "I woke up about 4:30 am, on Good Friday, to the sounds of birds and monkeys and the Grand Mosque reciting the call to prayer. Praise God, scattered throughout the city of over one million people, a few small churches are meeting in the shadows of literally hundreds of mosques, and praising God and celebrating our risen savior." Please pray for Mark's health and safety as he travels to many dangerous areas of the world.